Personal Training at Health Center of Hillsborough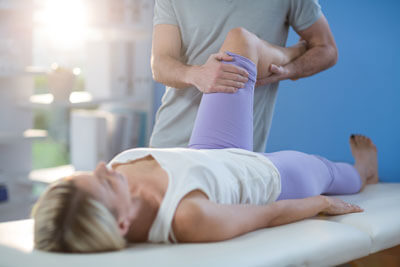 If you are in pain or have had an injury, a personal trainer may be the perfect way to regain your function. Our manual personal training techniques include joint mobilization and soft tissue mobilization. Using pressure applied by hands, our physical therapist will increase the motion of the restricted area.
Our Forms of Personal Training
There are two main forms of personal training we use: soft tissue mobilization and muscle energy techniques.
Soft tissue mobilization. Your physical therapist will apply firm and direct pressure to muscles that are overly tight. We can also address painful or restricted ligaments, tendons and fascia.
Muscle energy techniques. From precisely controlled positions, we'll activate your muscles. Your physical therapist will apply a specific counterforce.
Stretching and strengthening exercises. When your joints are moving smoothly again, we'll prescribe the exercises that are right for you.
What to Expect at Your Session
When you have your personal training session at Health Center of Hillsborough, you'll receive one-on-one care. Each visit is an hour-long with our physical therapist. Hands-on, orthopedic manual personal training techniques will be used to loosen up any stiff joints you have. For the full hour, you'll have our focused attention.
Insurance Information for Personal Training
Different insurance plans have varying types of coverage. Below, you can read about the benefits of a few of the most common insurances for personal training.
Blue Cross Blue Shield. We are contracted with all Blue Cross Blue Shield plans except Blue Value. The copays can vary between about $20 and $50. You do not need to have an MD referral to get your personal training benefits.
Medicare. With the contracted fee schedule, you have an 80% benefit for personal training. If you have a supplemental plan, you may not have any financial liability. You will, however, need a referral from your MD, PA or nurse practitioner.
Other insurances. If we are out of network with your plan, there may still be benefits available. If not, we can create an arrangement with you. By law, this arrangement can't be less than Medicare's fee schedule. If you have documentation of limited financial resources, your charges can be legally discounted.
Personal Training Demonstration

Personal Training Hillsborough, Mebane, Durham NC | (919) 241-5032