Reflexology at Health Center of Hillsborough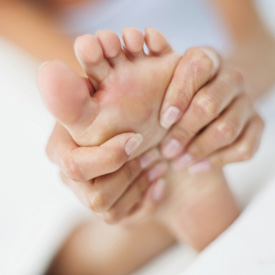 Reflexology is a healing modality that involves the application of pressure to reflex areas of your feet. A reflexologist believes that your full body is mirrored on your feet and hands through these reflexes. If you have discomfort at a specific point, you may have stress on that reflex. Reflex points are also known as acupressure points. They're concentrated on your feet, hands and ears. Together, they form a reflection of your entire body.
Our Reflexology Techniques
Reflexology utilizes a range of manual techniques such as finger-walking, thumb-walking, rotating on a point and hook and backup. When applied to reflex areas on your feet and hands, they stimulate neural pathways that link to your body systems. The goal is to support your body's effects to have a more optimal level of function.
The benefits of reflexology that you can experience include
Balanced emotions
Boosted healing processes
Detoxified crystalline deposits and uric acid
Enhanced sleep patterns
Greater energy and revitalization
Improved circulation
Reduced stress and tension
Stimulated creativity and productivity
The nurturing of relationships
To prevent further problems
What to Expect During Your Reflexology Session
At your reflexology session at Health Center of Hillsborough, your practitioner will use various techniques to address the areas that need attention. You may feel some tenderness if your body systems are sluggish due to an underlying issue. Any tenderness will likely lessen as your body heals, and you have more sessions.
The benefits you'll get from reflexology are long-lasting and cumulative. If you have an acute or chronic condition, regular sessions should be used in conjunction with your medical care. It is not a replacement of other traditional forms of health care.
Affecting Your Body's Systems
When tension is reduced in your body, you'll experience a sense of relaxation in mind, body and spirit. Each system of the body is organized along reflex zones or specific meridians through which your life force travels. This life force, called Qi, is an energy pathway. It can be blocked by your lifestyle or health habits. By removing the blockages, you'll have a free flow of energy; your body can then function more efficiently.
There are several advantages to each system of your body in reflexology:
Respiratory system: asthma, mucus
Nervous system: stress, anxiety, insomnia, depression, headaches
Reproductive system: libido, menstruation, hormones, libido
Digestive system: better nutrient absorption, digestive disorders
Lymphatic system: improved defense against infection or disease
Musculoskeletal system: arthritis, aches and pains, stiff joints, backaches
Genito-urinary system: kidneys, bladder
Spotlight on the Top Two Reflexology Benefits
Of all the benefits involved in reflexology, there are two main ones that can have incredible effects on you: balance and body harmony and relaxation or stress reduction.
1. Body harmony and balance. When your body is finely tuned like a top-of-the-line vehicle, it has the resistance it needs to heal from dis-ease. It will also give you a warning when harmony is disrupted. Your body will work together as a whole unit. Reflexology can begin this process for you. Relaxed hands, happy feet and stimulated ears can lead to an absence of pain and a boost to your mental attitude and spiritual/emotional health.
2. Relaxation and stress reduction. When you feel relaxed, you have a greater ability to cope with negative stress. Your body's cells make up every tissue, organ and system in the body. When it's relaxed, your cells can do a better job with more energy, oxygen and the delivery of electrical impulses. These functions mean reduced pain, enhanced vitality and a sense of beauty.
Meet LaVonda Walton, Reflexologist & Reiki Practitioner
LaVonda became a certified Reflexologist in 2004. She graduated from the Focus on Healing Institute located in Washington, D.C. In 2010, she qualified as a Level 1 Reiki practitioner.
Reflexology is rewarding to me because it's a way to bring together couples, families and friends. It can allow your body to balance any kind of stress.
Testimonial on Benefits of Reflexology
Find Out More
If you're interested in learning more about reflexology Hillsborough, contact us today!
CONTACT US »

Reflexology Hillsborough, Mebane, Durham NC | (919) 241-5032