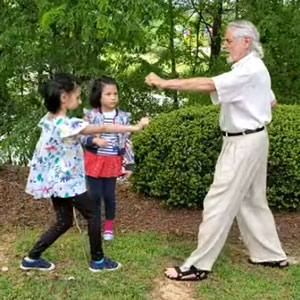 At Health Center of Hillsborough, we love finding ways to get out and move—especially during the current Coronavirus climate. We encourage all of our patients and friends to find creative ways to spend time outdoors—though you should always do so safely, and six feet apart. In fact, Dr. Aaron likes to say, "Six feet apart, not six feet down. Live on the earth, not buried in the ground!"
Qigong is one of the many ways that Dr. Aaron enjoys staying active and healthy, and the best part is he can still practice Qigong during the pandemic with his granddaughters.
What is Qigong?
It's a series of coordinated movement and body-posture that incorporates different breathing and meditative exercises. The true translation for Qigong is "life-energy cultivation", which is exactly what its designed to provide those who practice it frequently.
The best part?
There's even been research on Qigong that shows a potential benefit for treating a variety of diseases and illnesses, including pain and hypertension as well as anger, tension and anxiety. During Covid-19, reducing stress is key, and Qigong is an excellent way to help your body process and release stress chemically, physically and even emotionally as you focus on the deep meditative aspects.
Even if you're a beginner or someone who's never heard of Qigong before, we invite you to give it a try and explore the potential benefits.
Watch Dr. Aaron in this new video show his granddaughters a basic Qigong sequence—and give it a try with your loved ones.
For patients seeking a more in-depth explanation and Qigong walk-through, Dr. Aaron outlines another sequence further here.
If you have questions or comments, feel free to reach out to our practice. We look forward to seeing you one day soon!