New Patients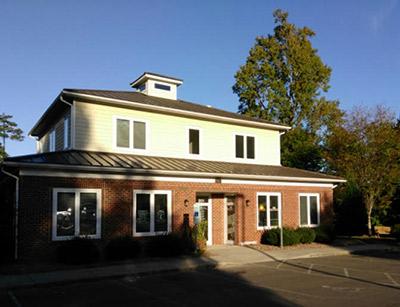 You'll love the feel of our office. Health Center of Hillsborough is beautifully situated around a lake with trees. Our gorgeous setting is only the beginning. When you walk in, you'll find an attractively decorated space that is homey and comfortable. We open the windows every morning to let in fresh, crisp air. Nataw is ready to warmly greet you. Help yourself to a water, herbal tea or a piece of fruit. We can't wait to meet you!
NEW PATIENT PAPERWORK »

Your Initial Evaluation
Your first visit with us will take about an hour. We recommend that you fill out the necessary paperwork ahead of time, which you can find on our website and bring in with you completed. Please wear loose-fitting clothing that allows you to move.
You'll meet with your practitioner to discuss your health history and to have an examination. We'll give you a preliminary report of our findings and give you a form of care, which may be a chiropractic adjustment or another modality as appropriate.
Your Report of Findings
When you return for your second visit, you'll receive a thorough report of findings. We'll detail everything from your examination so that you understand the root of your problem. You are welcome to bring your spouse or a friend. This way you will have someone who you can talk with about your healing trip. Every one of your questions will be answered. You'll also find out what our recommendations are for the appropriate plan to achieve your goals.
Following Up
At your follow-ups, your visits are quick, taking just about 15 minutes for your adjustment. We'll let you know how much more time to allow if you have laser therapy, acupuncture or therapeutic exercise added to your plan.
Become a new patient. Contact us today by phone or email! We have same-day visits and welcome walk-in visitors.
CONTACT US »

New Patients | (919) 241-5032